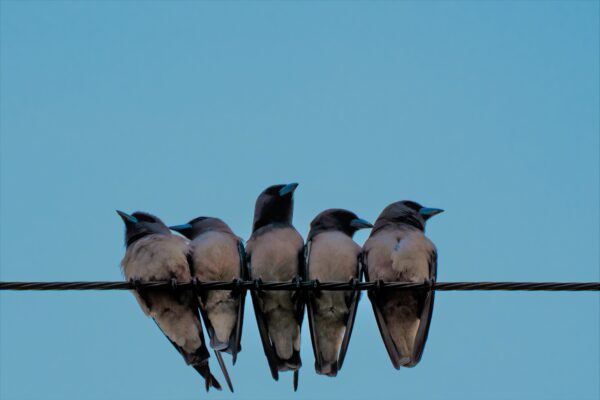 Are you a young performer keen on physical and devised performance practices?
Q Theatre is seeking artists aged 18-26 to audition to take part in the 2022 Originate project, Chorus. This is a skills development project that results in a public outcome. We welcome Expressions of Interests from artists across all levels of experience and disciplines.
We are also keen to hear from emerging lighting or sound designers who are Western Sydney based and interested in interning with a professional designer. For design intern enquiries please contact us directly at creativelearning@penrith.city.
CHORUS (ORIGINATE)
Directed by Shy Magsalin
Created by Originate's ensemble of emerging theatre makers
OBJECTIVE
Originate seeks to up-skill early-career artists in the areas of new work development, cross art form practice and to facilitate new collaborations.
THE SHOW
Solidarity. Unity. The collective voice of many bodies coming together. The rallying cries that charge up a crowd. After almost 2 years of social isolation, Chorus is a new physical theatre work by the 2022 Originate ensemble that digs deep into the communal experience. Looking at ways groups shift and evolve, what does it mean to band together and reclaim the power of the collective?
Q Theatre's Originate program gathers emerging theatre-makers and artists to train, collaborate and create. This year's production is directed by Shy Magsalin and she's ready to bring all the rigour of her physical performance practices to the ensemble's collaborative process.
ABOUT THE DIRECTOR
Shy Magsalin is a theatremaker and performer. She is head of the ensemble Ninefold in Sydney and works and trains regularly with the Suzuki Company of Toga (SCOT) in Japan. Shy graduated from the University of Western Sydney with a Bachelor of Performance (Theatremaking) before continuing to study the Suzuki Method of Actor Training with Zen Zen Zo (Brisbane), OzFrank Theatre (Brisbane), SITI Company in New York (2007, 2009) and, SCOT in Japan (2008-current). She has directed and performed locally, interstate and internationally. Shy is also a teaching artist across various institutions such as Actors Centre Australia, NIDA Open, The HubStudio, Riverside Theatres and PYT.
PRODUCER
Q Theatre, The Joan's resident theatre-making program.
EXPERIENCE
Performers of various levels of experience are encouraged to apply. A background or interest in devising new work will be an advantage.
COST
There is no charge for participation in this program.
AUDITIONS
Auditions are in groups over two nights:
Wednesday 2 March 5.30pm – 7.30pm
Thursday 3 March 5.30pm – 7.30pm
If your EOI is successful, we will notify you by 16 February which night you will attend your group audition. Artists will be led through a series of physical exercises and devising tasks and perform a short pre-prepared piece.
AVAILABILITY
To be considered for inclusion in the project artists must be available for the following rehearsal schedule:
SCHEDULE / REHEARSALS 
Week
Day
Dates
(2021)
Schedule
Start/Finish Time
1
Saturday
12 March
Rehearsal Intensive
10am – 4pm
1
Sunday
13 March
Rehearsal Intensive
10am – 4pm
2
Thursday
31 March
Rehearsal
5.30pm – 8.30pm
3
Thursday
7 April
Rehearsal
5.30pm – 8.30pm
4
Thursday
14 April
Rehearsal
5.30pm – 8.30pm
5
Tuesday
19 April
Rehearsal
5.30pm – 8.30pm
5
Thursday
21 April
Rehearsal
5.30pm – 8.30pm
6
Tuesday
26 April
Rehearsal
5.30pm – 8.30pm
6
Thursday
28 April
Rehearsal
5.30pm – 8.30pm
7
Tuesday
3 May
Rehearsal
5.30pm – 8.30pm
7
Thursday
5 May
Rehearsal
5.30pm – 8.30pm
8
Tuesday
10 May
Rehearsal
5.30pm – 8.30pm
8
Thursday
12 May
Rehearsal
5.30pm – 8.30pm
9
Saturday
14 May
Rehearsal
10am – 4pm
9
Sunday
15 May
Rehearsal
10am – 4pm
SCHEDULE / PRODUCTION WEEK
Day
Dates
(2020)
Schedule
Start/Finish Time
Monday
16 May
Production Week – Tech Rehearsal
5pm – 10pm
Tuesday
17 May
Production Week – Tech/Dress Rehearsal
5pm – 10pm
(Performance 7.30pm – 8.30pm)
Wednesday
18 May
Production Week – Preview
6pm – 9pm
(Performance 7.30pm – 8.30pm)
Thursday
19 May
Production Week – Opening Night (Performance #1)
6pm – 9pm
(Performance 7.30pm – 8.30pm)
Friday
20 May
Production Week – (Performance #2)
6pm – 9pm
(Performance 7.30pm – 8.30pm)
Saturday
21 May
Production Week – Closing Night (Performance #3)
6pm – 9pm
(Performance 7.30pm – 8.30pm)
IMPORTANT DATES
EOI Due: Sunday 13 February
Auditions Advised: Wednesday 16 February
Auditions Held: Wednesday 2 March & Thursday 3 March
Successful Applicants Advised: Friday 4 March
EXPRESSIONS OF INTEREST (EOI)
Please prepare a 1 page CV of your experience (Word or PDF format) and click the button below to apply:
APPLICATIONS NOW CLOSED
MORE INFORMATION
If you have any queries about your application, please email creativelearning@penrith.city