Theatre doesn't grow on trees. But it grows here in Penrith.
Q Theatre's drop in and deep dive workshops are made for a wide range of people. We're here for beginners hoping to learn the basics, emerging artists making the leap to professional practice and professionals wanting to stay sharp. We have weekly workshops for creative people of all ages and various needs. Below is a few of our current courses on offer.
PLEASE NOTE: Many of our community members are unable to leave home at this time. So for Term 4, Studio Q has adapted our theatre training classes to an online environment: a new perspective and group of activities to engage, create and develop theatre practice to the Zoom internet platform. Class times and fees have remained the same and we are delighted to welcome teachers from our Terms 1 – 4 courses as well as a few new faces.  Our teachers have developed courses that take into consideration the rigours of attending Zoom classes for our students, as well as the approaching theatre activities with the eye on the screen format the students will be exploring. 

For more information click on the class that interests you below, or download the Information Kit and Terms and Conditions.
If you have any questions please  contact Theatre Programs Coordinator Ian Zammit at ian.zammit@penrith.city
Studio Q: Face-to-Face Workshops
Studio Q: Face-to-Face Workshops
Studio Q is a face-to-face theatre and performance training program.
Participants attend a weekly workshop across an 8-week term to learn new skills and work towards a new performance outcome. Classes currently offered include:
Important Information

Accessible Workshops
Designed to cater for people with mild to moderate physical and/or intellectual disability, these workshops are a fantastic weekly creative outlet, which allow participants to work towards a performance outcome.
We are proud to offer two onsite programs as part of our Studio Q Access Ensemble. Choose from:
Support workers are welcome to sit in on all workshops.
Important Information

COVID-19 Safety Plan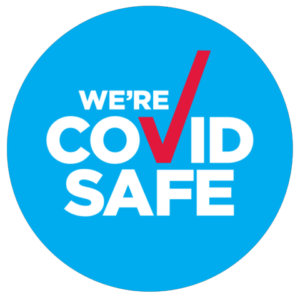 Penrith Performing & Visual Arts has developed a COVID-19 Safety Plan in compliance with the NSW State Government to ensure that we operate safely and in accordance with health orders at all times. The main points are as follows:
Venue Capacity Limits 
Each studio will be restricted to students and teaching artists only.
Restrictions will be implemented in our waiting areas too. We request that waiting areas are reserved only for students waiting for their lesson to commence. If parents need to be on premises during a lesson we ask that they wait in the Atrium Foyer on ground level. Students should only enter the building just before their lesson.
Where necessary, courses will be allocated larger rooms to enable us to keep a 1.5 metre distance. All students and teaching artists will be asked to project voices away from each other e.g. facing the wall.
Please maintain a safe distance within the studios between teaching artists and students.
Keeping Studio Q COVID-Safe 
It is imperative that if you are unwell or experiencing symptoms such as cough, sore throat, shortness of breath or fever, that you stay at home. Please do not enter the building if you have been overseas in the last month, if you are awaiting test results of COVID-19 or have been in close contact with a known or suspected case of COVID-19. This applies to all staff, students and parents/carers. Students may will be refused a lesson if they answer yes to any of the above screening questions each week. Our terms and conditions of enrolment have also been updated to reflect this – in enrolling you are committing to maintaining these conditions throughout the term.
Should you at any stage this term develop symptoms or receive a positive result for COVID-19 test, please contact Q Theatre management immediately (details below), and click here to complete a form.
Everyone entering the building MUST use the hand sanitiser provided before and after each lesson, as well as any time they enter or leave the building.
Teaching artists will use disinfecting wipes to sanitise all equipment before and after each lesson.
We strongly advise students against the use of public transport when traveling to The Joan.
You are welcome to download the full COVID-19 Safety Plan here.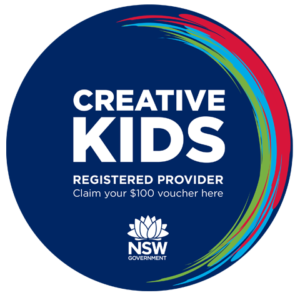 As a registered provider for the Creative Kids program, you can redeem your $100 voucher with us. Vouchers can be redeemed in person or by calling the Box Office on (02) 4723 7600.
Click here to Apply for a Creative Kids Voucher
For more information regarding the Creative Kids program, or to learn more about the more than 40 government savings and rebates to help with your cost of living, visit service.nsw.gov.au