Access Ensemble: For Ages 18+ Living With Disability
Access acting, music and movement exercises designed to stimulate the creative imagination and develop skills in personal and creative self expression. Designed to cater for people with mild to moderate physical and/or intellectual disability, these workshops are a fantastic weekly creative outlet, which allow participants to work towards a performance outcome.
Run over an 8-week term, we are proud to offer two programs as part of our Access Ensemble. Choose from:
Young Adults Ensemble for emerging artists aged 18 -26
Adults Ensemble for artists aged 26+
Support workers are welcome to sit in on all workshops.
Studio Q Term 4 classes will proceed online via Zoom. Links will be emailed to enrolled students in the first week of term.
As well as that, we are proud to announce that Studio Q's 2021 Annual Showcase will be moved online: For the first time, the students theatre skills have been adapted over Terms 3 and 4 to the screen, engaging with each other in performances across the mulitple screen interface on Zoom with creations of their own making. Performances will be created, rehearsed and pre-recorded by our talented young artists and access artists over the term, and then streamed for audiences on Saturday 27 November at 7.30pm. More information, including ticket prices and how to purchase and watch the zoom, will be available here in the weeks ahead. We hope you can join us! 
Key Details
Dates & Times
Adults Ensemble: Fridays, 10:30am – 12:30pm (SELLING FAST)
Young Adults Ensemble: Fridays, 1:30pm – 3:30pm (SELLING FAST)
Term 4, 2021
Week 1 – 15 October
Week 2 – 22 October
Week 3 –  29 October
Week 4 – 5 November
Week 5 – 12 November
Week 6 – 19 November*
Week 7 – 27 November*
Week 8 – 3 December**
* Technical Rehearsals for the Studio Q Showcase will be held in Week 6, Term 4 on 19
November; and Showcase Week 7, Saturday 27 November. Times announced closer to the dates.
**The final week of Term 4 will be a wrap class including ensemble reflection and Graduation.
Fees
$184 per student, per term
Creative Kids Vouchers accepted
More Information
Information Kit
Download a PDF version here
Download a Word version here
Terms and Conditions
Download a PDF version here
Download a Word Version here
Accessibility
Click here to find out about accessibilty at The Joan
Enquiries
Please contact our Theatre Programs Coordinator, Ian Zammit on (02) 4723 7600 (Tuesdays, 1pm – 8pm or Wednesdays – Saturdays, 9am – 4:30pm) or email creativelearning@penrith.city
CREATIVE KIDS VOUCHER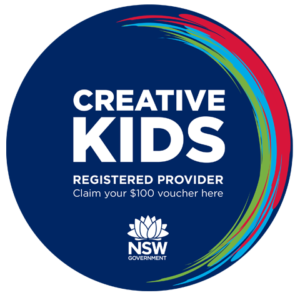 As a registered provider for the Creative Kids program, you can redeem your $100 voucher with us. Vouchers can be redeemed in person or by calling the Box Office on (02) 4723 7600.
Click here to Apply for a Creative Kids Voucher
For more information regarding the Creative Kids program, or to learn more about the more than 40 government savings and rebates to help with your cost of living, visit service.nsw.gov.au 
Call Box Office on (02) 4723 7600 to Secure Your Place Now!