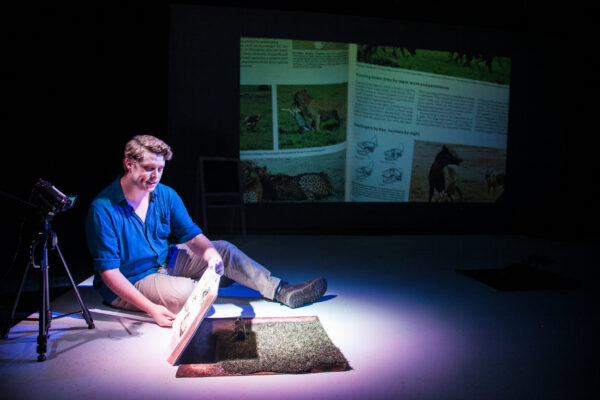 Q THEATRE LAB is Q Theatre's artist in residence program. The residency is designed to make creative space and time for the development of dynamic projects at an early stage of their conception. Projects are selected through an open callout process and successful applicants will receive financial assistance, work-space as well as technical and dramaturgical support for dedicated creative development.
In 2021 we are expanding the program to include a performance outcome. The two successful applicants will present their work (approx. 30 min) as a double bill in a two-night season in the Allan Mullins Studio at The Joan.
We are therefore looking for works that have the potential and capacity to be audience-ready within the 3-week timeframe. To discuss this further please contact Melissa Cannon by emailing melissa.cannon@penrith.city
Q Theatre Lab provides:
$2000 artist fee
50/50 box office split to the artist
11 days of development space: 9am-5pm, Monday to Friday, within the Joan Sutherland Performing Arts Centre (Penrith)
A technical rehearsal, dress rehearsal and two-night season in the Allan Mullins Studio at The Joan
Access to available studio lighting, sound, and AV equipment
Technical Support (up to 8 hours)
Dramaturgical Support (up to 6 hours)
Marketing and Publicity support
The work created and supported through Q Theatre Lab will be considered for further development with Q Theatre
Selection Criteria:
Artistic rationale and process
Potential and capacity of the project to be performed live at the end of the residency
Calibre of the artistic team and key personnel
We strongly encourage applications from artists that identify as Aboriginal & Torres Strait Islander, Culturally & Linguistically Diverse and/or have a demonstrated connection to Western Sydney.
Key dates & details:
Applications Open: 11 January 2021
Applications Close: 7 February 2021
Notifications: 15 February 2021
Residency: 8-26 March 2021
Performances: 8pm, Thursday 25 and Friday 26 March.
Residencies available: 2
Residency Location: The Joan (Penrith)
Click here to download the Q Theatre Lab 2021 Schedule
Image: Artist: Nathan Harrison. Project: How I Saved the Western Black Rhino. Photographer: Katy Green-Loughrey.