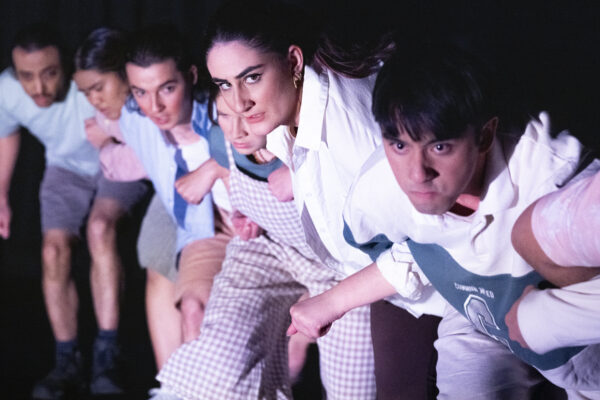 Expression of Interest for Emerging Theatre Artists
For 60 years, Q Theatre has been bringing theatre to the people. In 2024, we continue to champion Western Sydney artists, stories, and communities; creating access to opportunities to learn, create, perform and participate.
Originate is a six-month theatre performance training program for pre-professional and emerging artists aged 18+ who want to build their skills, engage in a rigorous ensemble-based performance practice, and take the next step in pursuing a career in the performing arts. The program culminates in a devised theatre production performed in the Q Theatre.
Led and supported by the Q Theatre team and leading industry professionals, Originate participants build their performance skills through physical and vocal training, experimentation, collaboration and creative problem-solving.
Previous Originate alumni have gone on to produce and perform their own work in theatres and festivals across Sydney, interstate and overseas. If you are passionate about pursuing a career in the performing arts, Originate will open up a world of creative pathways and possibilities.
Originate is open to pre-professional and emerging artists in the first 5 years of their performance practice. Q Theatre champions the development of local Western Sydney artists and those living in, working in, or with a connection to Greater Western Sydney are strongly encouraged to apply. Artists must be 18+ years of age to apply.
To apply, please scroll down to download the info pack which contains key dates and important information, then fill out the form below. Applications open 17 November and closes 15 December 2023.
CLICK HERE TO DOWNLOAD THE INFO PACK
CLICK HERE TO FILL IN THE APPLICATION FORM
For enquiries, please contact Q Theatre Co-Creative Director, Shy Magsalin at shy.magsalin@penrith.city
Photo: In Living Memory, Originate 2023. Photo by Christopher Hayles
---
Artist Testimonials
"

Originate

was a life changing experience that enriched my skills and confidence to pursue a practice in the arts… I could not recommend this program enough!" – Olivia Niethe, Originate 2023
"Six months of sustained material generation, exploration and learning really takes you to a different place when viewing your work and the works of others." – Adam Yoon, Originate 2023
"I don't know of anything like it in Greater Western Sydney… I feel I've truly grown as an artist in my self-efficacy, not only in confidence."

– Daniel Bailen, Originate 2023