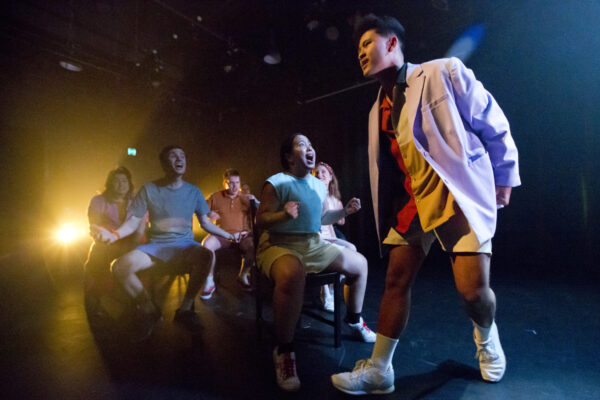 For 60 years, Q Theatre has been bringing theatre to the people. In 2023, we continue to champion Western Sydney artists, stories, and communities; creating access to opportunities to learn, create, perform and participate.
To mark the ninth anniversary of this hallmark project, Originate has been remodelled as a six-month theatre training program for pre-professional and emerging artists aged 18+ who are wanting to build skills and engage in a performance practice, and take the next step in pursuing a career in the performing arts.
Led and supported by the Q Theatre team and leading industry professionals, Originate participants build their performance skills through training, experimentation, collaboration and creative problem-solving.
The Originate program culminates in a devised theatre production performed live at Q Theatre – and provides young artists with the opportunity to open their eyes to a world of creative career pathways and possibilities.
Originate is open to pre-professional and emerging artists in the first 5 years of their performance practice. Q Theatre champions the development and growth of local Western Sydney artists and those living, working or with a connection to Western Sydney and Greater Western Sydney are strongly encouraged to apply.
We welcome EOIs from artists across all levels of experience and disciplines – you could be an actor, writer, musician, digital artist, or spoken word poet. If you are wanting to build skills and engage in a performance practice, please apply below. Artists must be 18+ years to apply.
To apply, please download the info pack which contains key dates and application questions, then fill out the form. Applications open 22 November and close 23 December 2022.
CLICK HERE TO DOWNLOAD THE INFO PACK
CLICK HERE TO FILL OUT THE EOI APPLICATION FORM
Please contact Associate Artist, Q Theatre – Shy Magsalin with any queries at shy.magsalin@penrith.city