An accomplished actor across stage and screen, Q Theatre Lab 2022 Artist-in-Residence Jamie Oxenbould has worked in the performing arts for over 25 years. From Griffin and Bell Shakespeare, to Sydney Theatre Company and Ensemble. You may have seen him on TV, where he's worked on a variety of shows including Playschool and My Place – or heard him on many children's animation series. His films have screened widely at festivals and his cartoons have recently been published in Meanjin.
During lockdown many of us spent a lot of time with our pets. Constant companions, we shared conversations, frustrations, moments of joy and despair. Jamie and Mary Rachel Brown developed their show, Kingdom, out of this time, creating a narrative based on animal-related monologues.
Jamie shared some thoughts on the creative development and day to day with us during the second week of the residency.
What do you most want people to know about your work in development?
The work we are developing is a dark comedic look at the relationship between people and animals. The pets we choose to so intimately share our lives with says a lot about who we are, and what the pets say about us (yes our animals talk) speaks volumes – and the unvarnished truth about us in return.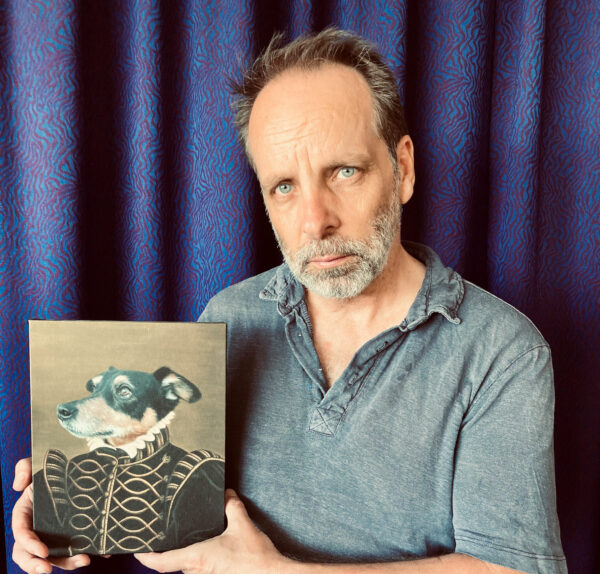 How has it evolved?
The show evolved by Mary and I writing a whole bunch of animal related monologues in lockdown. We wanted to keep busy and explore something about people and their pets.
We then got together and tried to weave them in to a coherent narrative. That's been the great part of the residency – we've had the time and space to turn a bunch of monologues in to a sort of whole.
Please describe a day in residence…
A day in the residency starts with the drive out to Penrith with Mary. A lot of chat and building a plan for what we can achieve that day. A bit of structure and goal setting has been very helpful in making sure we're not squandering this opportunity. We are still at the writing stage of development so its been a lot of silent typing and then reading aloud and talking about the piece. There have been plenty of helping hands to assist, in the form of dramaturgical advice, technical help and even the other residency group helping us out. Having a huge Westfield Mall right next to the theatre though is a big distraction for constant snack breaks.
What did you want to do with your career when you were growing up?
I pretty much always wanted to do what I am doing now. Working in the theatre and writing. I guess my dreams were bigger early on – but Ive come to realize that being creative and producing a show, book, drawing, whatever – is still art and still satisfying no matter what arena you work in.
What has been your favourite moment or moments in the theatre?
My favourite moments in the theatre? One is seeing La Fura dels Baus perform at the Sydney festival when I was young and impressionable. Opened my eyes to what a wild, magical and dangerous world that theatre can be. The other is personal – when I performed the one man show Fully Committed at the Ensemble Theatre. It was a real mountain to climb in every sense and was a personally very fulfilling milestone.
Name six people you'd invite to dinner if you could invite anyone at all, living or not.
I would love to have Ricky Gervais, Paul Weller, Paul Thomas Anderson, Isabella Rossellini, Julia Davis and Penny Wong at my next dinner party.
COME AND SEE THE SHOW!
Q Theatre Lab is an intimate night of new experiences from leading independent artists. Two 30-minute preview performances offer audiences the chance to peek behind the curtain and see two plays, fresh off the page, back-to-back on the same night.
17 & 18 Feb, 7.30pm