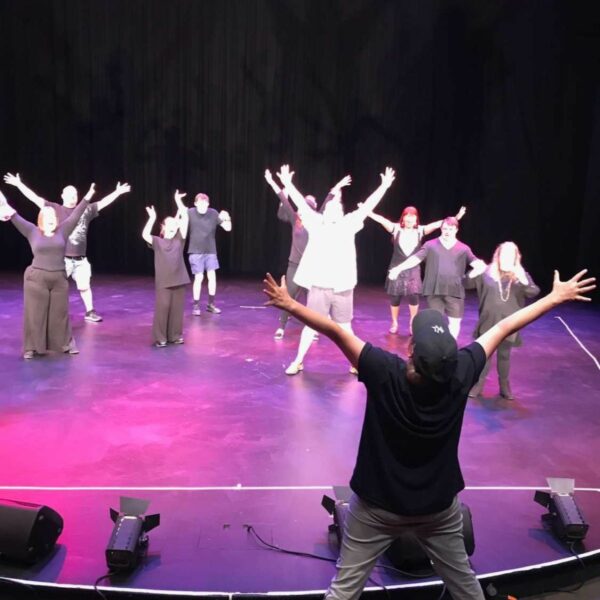 In this series of blogs, we take some time out to interview our wonderful Q Theatre team and Studio Q tutors.
Today in our Artist Spotlight, we introduce you to Amber Virtue, an actor and teacher from Sydney. Amber currently teaches Studio Q's Access Ensemble Blue Class on Fridays.
---
Hi Amber. Can you please tell us about your creative/performance practice and how did you get your start?
I began acting at the age of 12 while studying at Australian Theatre for Young People (ATYP).  I have performed on stage both here and in America as well as appearing in many Australian television shows including  Heartbreak High, Breakers, and All Saints. I got my start when Bryan Spicer the director of the Mighty Morphin Power Rangers picked me out of a sea of extras and gave me my first lines in the movie.
I have studied acting both here in Sydney and in New York.
My practice is a mix between Lecoq, Viewpoints, Stanislavski and improvisation. I believe in pure creativity and fun being a big part of that. I love to help actors find and develop their creative ability in order to express how they feel in a way that's unique to them. We are all masters of our own creativity and I love to help people express this whether it's in the classroom or on stage.
What's your favourite type of theatre and why? Can you share a performance or artist that has had a great impact on you and your career?
I absolutely love comedy. My favourite playwright is American author Neil Simons. I love comedy as I love the energy and pace and I am always left with a huge smile whenever I see a comedy performance, of any kind.
What do you think about the theatre/performing arts community in Western Sydney?
What I love best about this community is the body of new work that continues to get produced. Western Sydney has so many emerging artists full of cutting-edge ideas, and I love that The Joan has a vehicle for them to collaborate and produce them on a professional stage.
Tell us about the class(es) you're teaching.
I am currently teaching Access Blue. We are very excitedly working on our end of year showcase. A self-devised creative piece designed to let everyone shine.
What is the best or most exciting thing about your class(es)? What's your most memorable experience from teaching at Studio Q?
The best thing about my class is when somebody has a creative breakthrough. When a performer overcomes a fear or a physical challenge. I love watching their confidence grow with every class and performance.
My most memorable experience from Studio Q is each and every Showcase. The many shows our Access class performers do on the Q Theatre stage at the end of every year is extremely heartwarming and memorable. Watching the performers grow over the year, overcome their fears and shine on the stage showcasing not only what they have learned but seeing their pure joy and freedom in doing this, will stay with me forever.
Do you have any advice/words of wisdom for young artists and/or artists living with a disability looking to pursue a career in the performing arts?
My advice would be to dive in. There is absolutely nothing holding you back.
What was the last production you saw and loved? What are you most looking forward to seeing on stage at The Joan next?
The last production I saw and loved was Mamma Mia! The Musical. I do love a good musical. The next productions I am seeing are Constellations at Sydney Theatre Company and Wicked The Musical at Sydney Lyric Theatre.